About Perry
On September 24, 2014, Perry secured the candidacy for the Liberal Party of Newfoundland and Labrador for the District of Lake Melville. To focus on this new role, he has resigned from his employer, opened an office at 8 Grand Street in Happy Valley-Goose Bay, and is preparing for the upcoming provincial election.
Perry was born in Nova Scotia and studied forestry and wildlife management in New Brunswick. He arrived in Labrador in 1987... and stayed.
As a former Principal Scientist with Stantec, he worked on environmental assessment, research and land-use patterns associated with resource development projects in Labrador and other northern regions around the world.
As a resident of Happy Valley-Goose Bay, Perry has been involved in leadership positions with several community, regional and provincial organizations including:
Labrador North Chamber of Commerce
Goose Bay Citizens Coalition
Ground Search and Rescue Team
Rotary International
Expo Labrador
Labrador Winter Games
Great Labrador Canoe Race
Labrador Heritage Society
Labrador Lake Melville Tourism Association
Labrador Peregrine Falcon Program
Restoration of Labrador Exploration Sites Project
Amaruk Golf and Sports Club
Harry Baikie Centre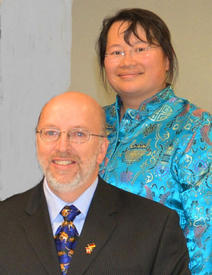 Perry served as Chair of the Newfoundland and Labrador Environmental Industry Association in 2014. He received the Citizen of the Year award in 2003.

Perry is married to Caroline Hong who also works with Stantec and volunteers on many community projects. They have one, four-legged dependent named Zoey.
Perry's national and international experience includes, the decommissioning of DEW-Line sites in the central Arctic; and other projects for Noranda, Albright & Wilson, Abitibi-Price, Inco, and Transport Canada. Perry has worked for the Canadian International Development Agency, the World Bank, and the United Nations Development Program in Russia, Ukraine, and Turkmenistan on similar themes of resource development, economic and social partnerships and environmental assessment.